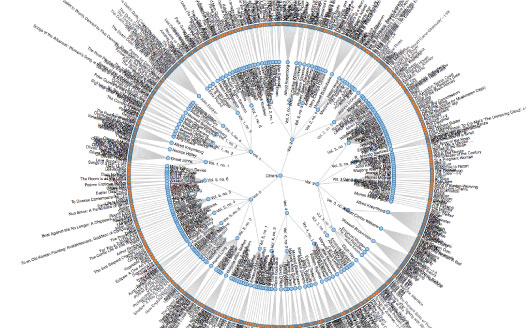 MJP LAB
The main purpose of this site is to do cool things with the data that the Modernist Journals Project has generated over the course of digitizing magazines from the early 20th century.
The site is experimental, but it's also dedicated to experimentation: playing with the MJP data, and drawing new patterns and knowledge out of its journal files. The site thus may be viewed as a supplement to the MJP's search pages: we'll take the search results from those pages and visualize them in different ways, but we'll also try to locate new relationships in the MJP data that our search pages are structurally unable to uncover.
File Repository
The File Repository is a sampling of journal files that the MJP has made available to the public. We've also uploaded to this site a series of plain-text datasets that people can use to create their own visualizations.
VIEW ON SOURCEFORGE
Visualisations
We've assembled ideas for different kinds of graphics that, we believe, especially suit and enhance MJP data. We hope to increase user participation by showing people how they can generate their own charts and graphics using datasets fashioned from our journal files.
SEE VISUALISATIONS