Teaching Tools
This section is dedicated to helping teachers and students use MJP materials in the classroom and scholarship.
You'll find here ideas for teaching various topics related to modernist magazines, research ideas geared to specific MJP journals, a wide array of tools for placing MJP texts in different contexts, and actual syllabi, course assignments, and student essays that have drawn on MJP resources. These materials will soon live on a wiki to which teachers may contribute.
VIEW TOOLS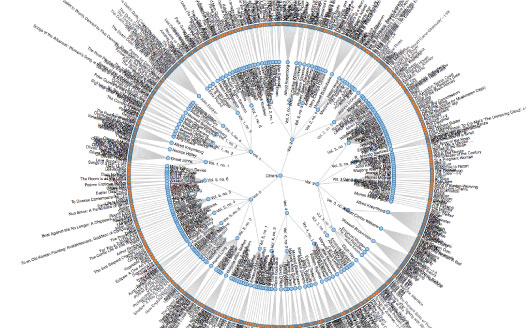 MJP LAB
This section features ideas and practices for computational analysis and visualisation of MJP data.
This section fosters experimentation: playing with the MJP data, and drawing new patterns and knowledge out of its journal files. It may be viewed as a supplement to the MJP's search pages: we'll take the search results from those pages and visualize them in different ways, but we'll also try to locate new relationships in the MJP data that our search pages are structurally unable to uncover.
VIEW THE LAB